Under Questioning From Schatz, Homeland Security Secretary Commits To Helping Residents Impacted By Maui Fires Stay In Their Communities
DHS Secretary To Schatz: We Should Do Everything Possible To Rebuild, Restore, Prove Resiliency Of Community
WASHINGTON – Today at a Senate Appropriations Committee hearing, U.S. Senator Brian Schatz (D-Hawai'i) called on Secretary Alejandro Mayorkas of the U.S. Department of Homeland Security, which oversees the Federal Emergency Management Agency (FEMA), to commit to helping Maui residents impacted by the August fires remain in their communities.
Schatz asked Secretary Mayorkas, "Should the federal government help disaster survivors stay in their communities?"
In response, Mayorkas said, "Senator, I believe the answer is yes. We should strive to do everything possible to rebuild, restore, and prove the resiliency of a community… I do believe in devoting resources and energy to the rebuilding of a community, rather than solely an exodus from it."
"I don't want the memory of the fire itself to fade," said Senator Schatz. "Hawai'i is the most isolated, heavily populated place on the planet. West Maui is even more isolated and even more expensive. As we think about helping people rebuild, it is not a matter of giving them a voucher and allowing them to fly to the mainland. And I appreciate your continued attention to this."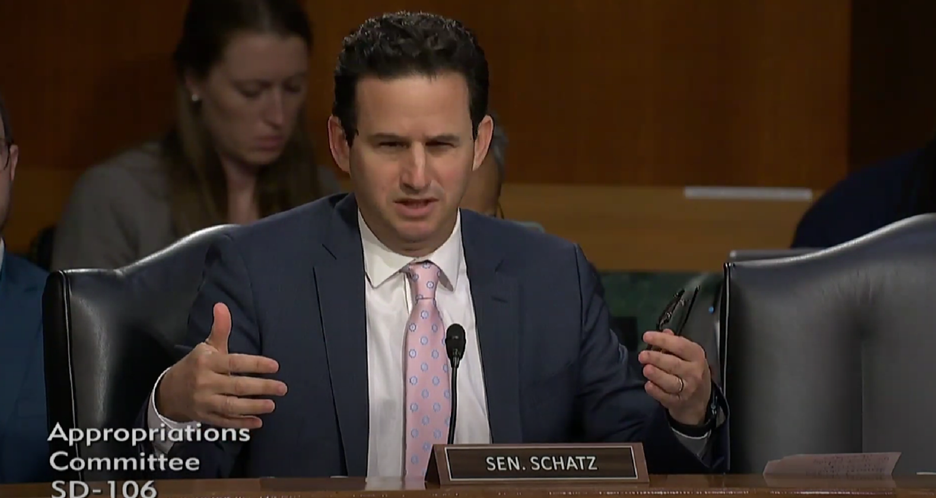 Since the devastating fires in August, FEMA has provided nearly $250 million in federal assistance, while the Small Business Administration has delivered more than $215 million in disaster loans for affected Maui homeowners, renters and businesses. 
Schatz has led efforts to deliver additional federal disaster relief funding to Hawai'i. Schatz worked with congressional leaders and his colleagues in the Hawai'i delegation to ensure $16 billion in disaster relief money was included in the short-term spending bill signed into law in September.
Video of Schatz's full exchange with Secretary Mayorkas is available here.
###